Bishop Moore Falls 1-0 To Monsignor Pace In State Semifinal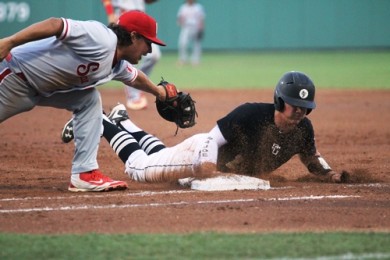 Photo Gallery
To honor recently departed teammate Joe Skinner, the Bishop Moore Hornets did it the best way possible simply by playing the game of baseball the way that he always did. Skinner was a senior star signed to someday play at the University of Central Florida, before his battle with leukemia ended with his passing on April 30th.
With heavy heart the Hornets carried on to make a run all the way to the state Final Four against Monsignor Pace at jetBlue Park. Although that journey did not end with a state championship following a 1-0 loss to the Spartans on Wednesday night, Bishop Moore honored their brother by playing great team baseball and rising above themselves the way their charismatic leader also used to do.
"A lot of our playing abilities came from Joe and Joe's leadership," Bishop Moore manager Tony Mehlich said. "I'm just proud of these guys and the way they stepped up to finish the year."
Playing with their hearts on their sleeves, the Hornets left it all on the field. Joe Skinner was a special person that positively influenced the people he met, and his teammates embodied that example both in their play and in their demeanor. Rallying in his name, the team won its next two playoff games to reach the state tournament.
"There is something a little inside that you've got to dig down for and you know he's there," senior Eric Forbrick said. "You know he would be on us and he would be working just as hard. Even when he was sick he was still coming out to the field taking BP, taking ground balls and still throwing. It's all you can ask for."
Wednesday's semifinal was no easy summit to eclipse against Spartans ace Chris Rodriguez, even though Bishop Moore also received outstanding pitching from starter Josh Bates and reliever Mikey Giordano. Each side matched the other pitch-for-pitch throughout in a contest that was scoreless until the top of the sixth, when the Spartans scored the only run of the night on a passed ball.
With a deep arsenal of pitches, Rodriguez proved to be nearly impossible to hit. With a nasty slider leading the way he was ahead in most counts and needed just 90 pitches to go the distance. With 64 pitches finding the zone Rodriguez struck out seven, while allowing two hits and hitting one batter.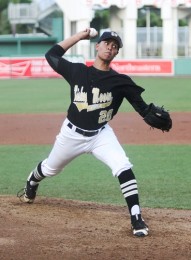 "He was good, he was around the zone and he was effectively wild with his offspeed pitches," Forbrick said of Rodriguez. "His cutter and his slider were dropping out of the zone, it was coming at us and it was away. He did a good job and you have to tip your hat off to a good arm like that. You just have to keep going in there trying to work his pitch count, which we probably could have done a better job of. But it's hard when he is in the zone."
The Hornets (20-11) did all that they could and played inspired baseball. They did not need to look far to find any extra motivation. All around the stadium were banners bearing the slogan "Skinner Strong", as well as Hornet fans adorning shirts baring similar slogans. Prior to the start of the action the entire stadium held a moment of silence in remembrance of Skinner, and following the game both teams gathered in a circle at the pitcher's mound for a prayer together to honor and remember their departed brother.
"We're both Catholic schools, and before we left I told the team and we had a prayer for them, because ultimately we're all comrades," Monsignor Pace manager Tom Duffin said. "Whether we're on opposite teams, we're baseball players and high school kids. For them to do what they did, to be able to hang on and get here with that heavy heart, my hat goes off. I wanted to just show a sign of solidarity and get together and say that it is more than just baseball. His parents are dealing with a huge loss, their team, their friends, and at the end baseball doesn't really matter. So we wanted to let them know that even though we're opposition tonight, we wanted to make sure they knew that Pace High School doesn't forget those things. We're going to practice our faith and let them know that we are united with them."
Mehlich praised the strong baseball community that stepped up to support them. He thanked the support from the Spartans, as well as from the FHSAA.
"That's our baseball community and it's so strong," Mehlich said. "You guys at HSBN know; you follow it state-wide. For them to do that and express their care that they were thinking about him before even playing us meant the world to us. But it should mean a ton to his parents because his parents did an amazing job raising a great kid. I have been telling everybody over these last few weeks; Joe was an amazing baseball player but he was an even better person. The community shows it, and we are touched and blessed to be a part of such a wonderful community, as well as our community as a Catholic school."
Playing without their leader and perhaps their best player, the Hornets achieved as much as they could in being one of the last four teams in their classification still playing at season's end. The players rose and played above themselves to embody everything Joe Skinner stood for.
"It's been next man up," Mehlich said. "Joe was diagnosed in December and a lot of teams wrote us off. Joe himself wrote a nice text message to the team and discussed being prepared for a long season. If you out-work everybody ahead of you you have an opportunity to be successful. Joe was our leader, so when it came down to filling his shoes it was a difficult task. But our guys play with a ton of heart, we filled it up and we played really good defense along the stretch.