Lake Brantley Defeats Apopka In District 9A-3 Showdown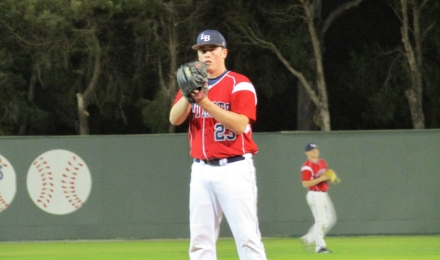 Lake Brantley ran up the scoreboard in the bottom of the fifth inning to push their way past Apopka on Wednesday night. The final score was 11-1 in favor of the Patriots, who won on the ten-run rule in the bottom of the sixth inning. Manager Eric Entrekin has coached his band of boys to a 7-0 start to the year, and now the club starts 1-0 in 9A-3. Entrekin credits a mixture of everything to their early success.
"It's been a mix," Entrekin said. "Defensively we made one error tonight that cost us a run, but it's been a good mix so far. With Mike on the mound we don't have to score a whole lot; he's a shutdown guy. He's our guy."
Mike Ruff came out firing on Wednesday. Even though his game plan didn't revolve around striking people out, he still managed to rack up eight over the course of five innings.
"I know they can hit," Ruff said. "They're a really scrappy team, so my game plan was less getting the strikeouts and more getting contact pitches low in the zone and hopefully some ground balls.
The Blue Darters (5-1, 0-1) played scrappy the whole night, but Lake Brantley matched them. In fact, on two occasions the Patriots managed to lay down bunts that turned into singles. Jay Charleston knocked in the first run of the night off a second-inning bunt, and center fielder Connor Mcdonald had another perfect bunt in the wild fifth inning to load the bases.
"That's something I've emphasized since I've been a head coach," Entrekin said. "First and second we're going to bunt, plain and simple. They know we're going to bunt. They know me, so we got lucky, pretty much, and put the ball in play where they couldn't defend it."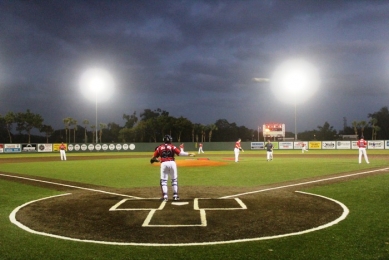 All the run support manufactured for Ruff was something he appreciated. Ruff was just a freshman when the Patriots won the state title in 2013, and he says he sees a little bit of that team in this years squad.
"We're hitting," Ruff said. "We haven't hit like this since that state championship team in 2013, and they put up runs. It makes it easy when you have run support. I can pick out some players on this team that I see resembling players on that team, so we got a good shot."
One of those players might be Harrison Ray, who delivered some big hits on Wednesday night. In the third inning he hit a towering, two-run home run over the left field seats. Then, later in the fifth inning, he hit a bases-clearing triple. He finished the game 2-for-4 with five RBIs.
The Patriots finished it off in the sixth inning with the help of pinch-hitter Connor Kouwenhoven. He knocked a single to move the runner over to third base, and one batter later the winning run scored because of it.
"We knew they were going to throw us inside and we didn't crowd the plate or anything–we were our normal selves in the box," Entrekin said. "We just had some good, quality at-bats, put some pressure on the defense, and it worked out for us."