Oviedo Edges Winter Springs 1-0 In Extra Innings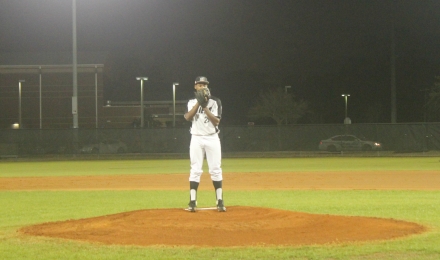 Defense wins championships, and in the case of baseball, it's defense and pitching. Winter Springs and Oviedo both brought that to the table on Tuesday night, with masterful pitching performances from both starters. In the end Oviedo beat Winter Springs 1-0 in the bottom of the eighth inning.
"Pitching and defense wins games too, so that's kind of what we're preaching," Lions manager Jason Foss said.
Kerry Wright got the start for the Lions and registered seven strikeouts over five full innings of work. In fact, the sophomore didn't give up a single hit during his time on the mound. His control was impeccable too, as he only gave up one walk in that time.
Wright admitted he felt no pressure while the stakes of the game climbed higher and higher. It looked like it too as he kept firing away, unnerved by the fact that the offense didn't seem to get any traction against the opposing pitcher.
Speaking of opposing pitchers, Altoon Coleman was the starter for the Bears. Just like Kerry Wright, he was dominant on the mound, tallying six strikeouts with two walks. He only gave up one hit during his five innings of work.
That hit came in the bottom of the fifth inning off the bat of Lions right fielder Andrew Fenning. His hit sparked a rally, and a few batters later there were runners on second and third with two outs. Tensions were high, and with two runners on base Zachary Miller hit a ball hard right back at Coleman. The baseball bounced off his glove and deflected towards second baseman Ben Wade, who fielded it cleanly and got it to first just in time for the out.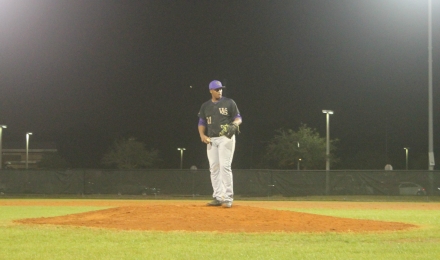 This combination of rock-solid pitching and defense was what kept the game so close and interesting the entire night. There were hardly any hits, but that's just a testament to how great the pitching actually was.
Foss agreed that the guys on the mound are what is getting it done best for the team this season.
"Our pitching this year has been unbelievable," Foss said. "I think our team E.R.A. coming into the game was a 1.2, but right now it's probably under a 1.00."
Those are phenomenal numbers from the returning state champions from last year. But Foss stated that pitching wasn't exactly the reason for Oviedo's state title last year.
"We had pitching last year but last year was our bats," Foss said. "This year it's our pitching, and last year we were averaging 10 runs a game. We could really swing it last year, and this year it's won and lost by our pitching."
Pitching and defense in baseball is normally what separates the winners and losers. Time will tell whether that formula can continue working for the Oviedo Lions as they attempt to repeat their accomplishments from last sason.