Hagerty Falls In State Championship To Steinbrenner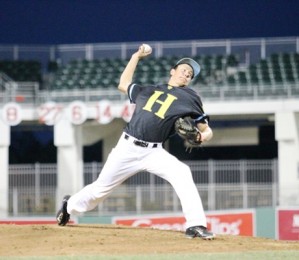 Photo Gallery
An unprecedented and historic season came with an ending no fan of the Hagerty Huskies baseball team wanted Saturday night at Fort Myers' jetBlue Park. Playing in the state championship for the first time in school history, Hagerty battled back and forth with Steinbrenner before the Warriors got hot in the final inning to pull away for a 9-4 victory.
The pain of defeat was not a welcome feeling for the Huskies, but it does little to sullen the magical year that this special group of players enjoyed together. This tight group took the Hagerty program farther than any other team before it to set new standards for the program, and it also set a state record as part of the highest-scoring state semifinal game in Florida history Friday night in its 19-16 win over Forest.
What made those memories and so many others they had this year so special was the personalities and characters that merged to form the 2016 team that will live on in program history forever. Loaded with talent, enthusiasm and spirit, the players set the bar high and then vaulted over the top of that with the right kind of energy.
"These kids are going to be tremendous husbands and tremendous fathers, and if these kids are going to lead us into the next generation I feel pretty dang good about it," Hagerty manager Jered Goodwin said. "It's been really refreshing to see a bunch of kids that care about each other as much as they do about themselves. That's just not how the world is today. This whole season this group has just been willing to do everything and anything for each other. I am very proud of that."
That unity was the driving force that led the Huskies this year. No matter what situation they found themselves in during games, they never doubted themselves and they always believed in one another. Knotted in a tie game late in the action against the Warriors, the Huskies rose up together one last time.
Hagerty broke it open to go ahead in the bottom of the sixth. Brian Ellis walked and went to second on a passed ball, Riley Greene walked and Britt Crawford singled through the right side to plate Ellis, while Greene also came in on an error. Cameron Alba followed with a sac-fly RBI that drove in Crawford to put Hagerty up 4-1 heading into the top of the seventh.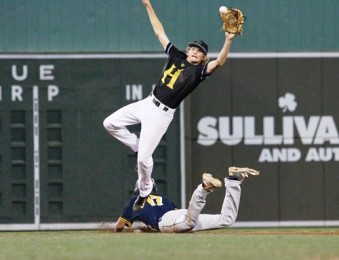 Steinbrenner answered back with big swings of its own in the seventh, batting around the order to erase the deficit and jump ahead with a commanding lead.
After playing 12 grueling innings in its district semifinal victory on Friday, Hagerty (23-8) came into the championship game with a severely-depleted pitching staff. The club had to rely on guys with limited innings on the season, and those hurlers showed great heart and character to toe the rubber on the biggest stage.
"We knew we were going to piece it together and go by committee and that was what we did to give ourselves a chance," Goodwin said. "Tip your cap to Steinbrenner. We didn't walk a guy, we didn't have a wild pitch or a passed ball and we didn't make an error. They just had an impressive inning."
The Warriors (27-5) opened the scoring in the top of the third. CJ Van Eyk was hit by a pitch, stole second and then moved to third thanks to a sacrifice bunt from Nick Alessi. That set Patrick Morris up for an RBI opportunity that he capitalized on with a liner past first base that sent Van Eyk home for the 1-0 lead.
Hagerty answered back to tie it up in the fourth. Riley Greene singled past the second baseman and made it to second on a wild pitch to get into scoring position. Joe Sheridan put down a nice sacrifice bunt that moved Greene to third and another wild pitch allowed him to come home and even the score.