Allen's No-Hitter Leads University To 9A Title Game
Photo Gallery
University School's Logan Allen was the worst kept secret of the 2017 state tournament. The senior left-hander came into Friday's 9A state semifinal against Miami Palmetto following a dominant season in which he turned heads with his brilliant pitching. Facing a tough, and scrappy Palmetto lineup did nothing to faze the impressive southpaw, as he delivered his greatest performance in his final career high school start by throwing a no-hitter that led University to a 4-0 victory that advanced the Titans to Saturday's 9A championship.
University will face off against local nemesis Timber Creek, after the Wolves defeated Jupiter to advance on the other side of the bracket of the state's largest classification.
"I was trying to go out there and make pitches and it worked out well," Allen said.
This understatement merely serves as reminder of the type of competitor that Logan Allen is. Baseball is a team game and the success he has enjoyed is only enjoyable because it benefits all of his teammates as well. Having a player of that caliber of talent whom is also a humble leader most comfortable joking with teammates and reminding them all to enjoy the game they play has been invaluable to the team.
As is so often the case in no-hitters, the defense got its chances to back its starter by making big plays. Senior outfielder Cameron Robinson delivered in that role by making an impressive catch in the fourth inning that kept the no-hit bid intact.
"In my mind I was thinking that I've got to get to that ball," Robinson said.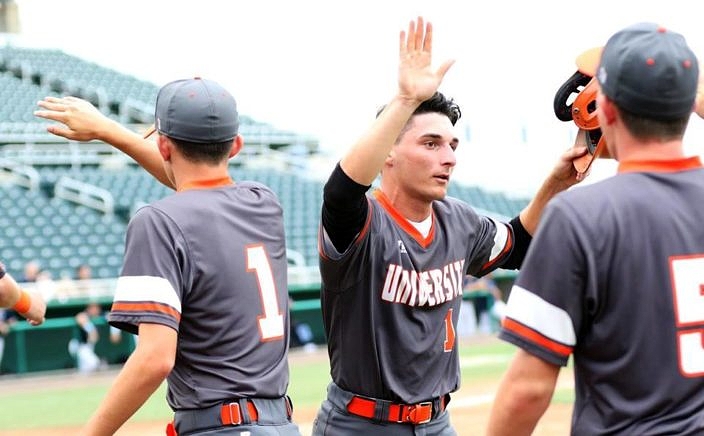 Very few balls were even put in play, as Allen retired 10 batters via strikeout. He issued a walk late in the action to lose the bid for a perfect game, but obtained the no-no in part thanks to Robinson's big contribution.
"I was just thankful that he got to the ball and made a great play," Allen said. "It's stuff like that that brings the team together, and with something special like a no-hitter, stuff like that protects it. I am just thankful to have him out there."
It was a day that the Titans will always remember, and Allen made it that much more special a memory even before he ever took the mound by giving his club all the runs it ultimately needed with a solo home run to left field in the top of the first inning.
"Having that cushion as a pitcher gives you that confidence that you can go out there and pitch and if a guy gets on it is not as stressful," Allen said. "You go up early, you set the tempo for the game, and it set the tempo for our bats too. Everyone hit pretty well today, and being able to get that started was special. I don't really hit home runs, so to get one in a game like this in my last high school start on the mound is big for me."
Although the Titans got to Palmetto starter Matthew Turner with the lead and a bases-loaded jam, the left-hander worked his way out of trouble to escape having surrendered only the one run. The Panthers' ace battled to keep his club in the contest, while they worked to make adjustments to try and figure out Allen.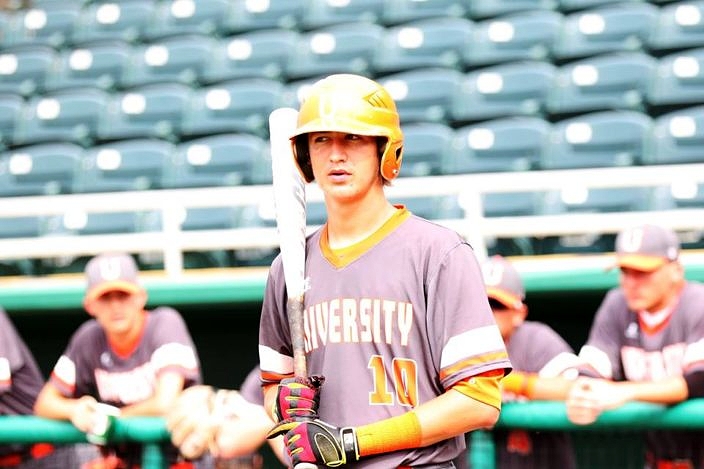 "He was dotting his curveball and hitting his spots," Palmetto senior Eddy Arteaga said. "Then he was hitting his spots with his fastball. You would get another view, and then he would back-door you with the curveball again, maybe a couple of times, and then come back at you with the fastball. He hides the ball and he hits his spots."
University extended the lead with a three-run fourth inning that provided a much larger cushion. Timothy Dixon and Jesus Ruiz both singled to start the inning, before Dixon was caught out when Turner fielded a bunt from Michael Sinopoli and fired to third to erase the lead runner. Jackson Roberts worked a walk that loaded the bases, before a passed ball allowed Ruiz to cross the plate. Allen then delivered again with the stick by lining a single to right field that plated two base runners.
"I'm just grateful we finally were able to score more than two runs for Logan," University manager Frank Martello said. "Gosh, all year I feel sometimes we put too much pressure on him. But we played defense, scored enough runs, and how do you top a no-hitter? I guess the only way is to go out and win it tomorrow. We're going to have an opportunity tomorrow, and that's all you ever ask for. If we play our game, execute where we need to, we have a chance. I'm really anxious and look forward to playing that game."