Bishop Moore Falls To Bolles In 5A Championship
Photo Gallery
Coming to the state tournament with a target on your back is not an enviable position. Yet the 2017 Bolles Bulldogs arrived as such, as the defending state champions. Behind a strong offensive outburst that staked the club to a huge lead in the first inning, Bolles rolled to a 7-2 win over Bishop Moore to win Thursday's 5A state championship at Hammond Stadium in Fort Myers. It is the team's second straight title and eighth overall in program history.
Meanwhile, the sting of defeat did little to diminish the fact that Bishop Moore has worked its way back on the map as a title contender each season. The Hornets played in their second straight state Final Four, after falling in the semifinal a year ago, and the goal is to maintain the program at that high level so that it will continue to come back and battle for state glory every season to come.
"You get to this spot you obviously want to win," Bishop Moore manager Tony Mehlich said. "I'm proud of my guys. We've been fighting for this opportunity this entire year. Bolles is a great team; they're well-coached. I'm extremely proud of my boys and extremely proud of the opportunity that they gave out Catholic community, our school, their teammates and me and the coaching staff."
The Bulldogs attacked with their bats right away to take a commanding lead in the top of the first. Max Ferguson led off with a double to right, Austin Knight was hit by a pitch and Clemente Inclan dropped down a great bunt and reached with a base hit that loaded up the bags. Hunter Barco then put this team on the scoreboard with a fly ball deep to center field that allowed Ferguson to tag up and score for a sac-fly RBI. Mac Forrester then sent a liner past the shortstop to plate a pair and Bryson Kirksey followed with a bouncer past second for a two-RBI single and a 5-0 advantage that also chased Bishop Moore's starter from the game.
Bolles tacked on another run in the third. Brendan O'Neil singled past the shortstop, Nate Skinner sent a base hit to left field and Forrester walked to load the bases. Russell Libby then reached on an error that allowed O'Neil to score and increase it to a 6-0 lead.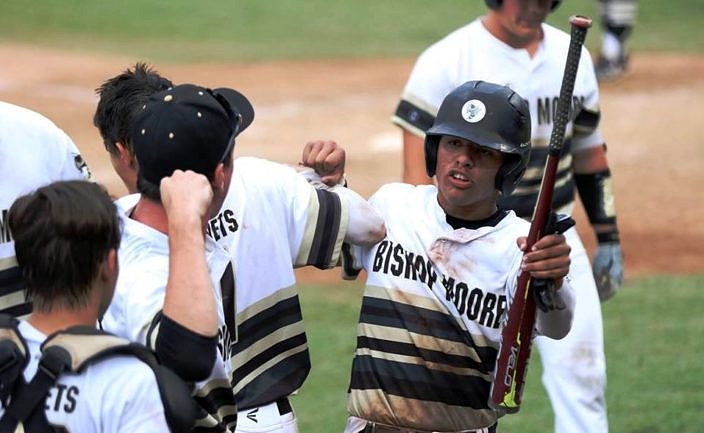 The Hornets answered back to get on the scoreboard in the bottom of the fourth. Kyle Mock got it started with a two-out single to center, and then came all the way around to score when Fabian Escalante crushed a shot deep into the right-center field gap for an RBI triple. Connor Scheitzach followed with a shot deep to left field for an RBI double.
Bolles added to its lead in the top of the sixth. Ferguson and Inclan both walked, and a fielder's choice on an infield grounder erased Inclan advancing to second before the relay throw sailed high to allow Ferguson to round third base and score standing up.