Bishop Moore Moves Into 5A Title Game Behind Bates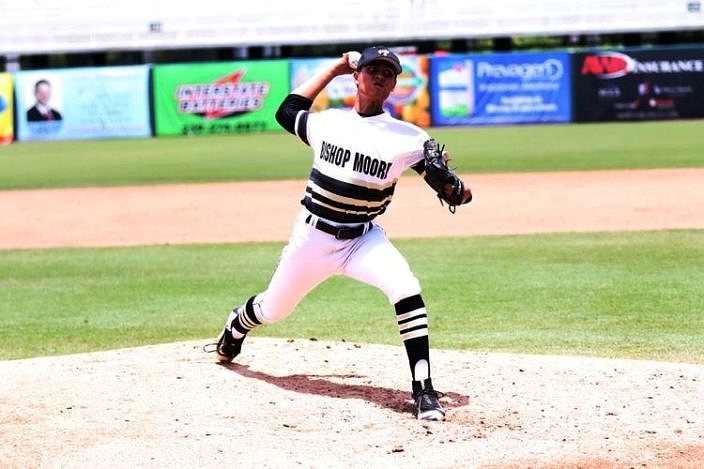 Photo Gallery
Bishop Moore came into their 5A semifinal game knowing that their opponent in Lemon Bay was an upstart team on a magical playoff run. The Hornets, playing to advance to the state title game, sent their ace, Josh Bates, to the mound to combat the hot Manta Rays.
Bates delivered another in a long line of dominant performances on the season, throwing a complete game while not giving up his first hit until there were two outs in the seventh inning. The Bishop Moore offense also was rolling, en route to a 8-0 semifinal win. The Hornets advanced into Thursday's title game against Jacksonville Bolles, the defending 5A state champions, searching for its third title in program history and first in ten years.
"This is kind of what we expected, as Josh Bates has been our workhorse the entire year," Bishop Moore manager Tony Mehlich said. "He's led us to victory the last four games and taken on that leadership role as our starting pitcher. Offensively, if we score runs we really have the chance to beat anybody with Josh on the mound, and tonight was a perfect example. We're excited knowing that this was a game we lost last year, and I think our senior class has come back to be a part of this expecting for us to come out here and get the win. They prepared correctly and I think that was the difference today."
Lemon Bay sent ace Trey Fields to the mound, and the Hornets offense greeted him with aggressive play early. Seth Martin led off the game with a double to right-center field. After Martin advanced to third on a passed ball, Bobby Spitulski had an infield hit, and suddenly the Hornets had runners on the corners in the opening frame.
Kyle Mock then drove in the first run of the game with a single to left, and Fabian Escalante walked, loading the bases. After Fields struck out the next batter, Quinton Martinez singled, extending the lead to 2-0. Fields was then able to work out of the jam without further damage.
The two runs was more than enough for Bates, who had given up three runs or more in only three of his 12 starts in 2017. Bates mostly located his fastball, mixing in a few off-speed to overpower the Manta Rays for most of the afternoon. The right-hander admitted that he came into Wednesday's contest with a chip on his shoulder, after his club lost in the same spot a season ago.
"I was just going out there and filling up the zone," Bates said. "I was able to go out there and pitch with a lead, and Coach has been preaching all year to pitch with a lead, fill up the zone and let your defense work. That was able to help me out a lot. I really felt my fastball today, and my curveball was really on too. After the first inning I knew my pitches were really on and I knew it was going to be a good game."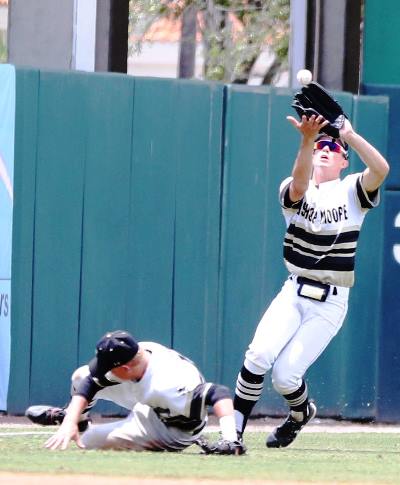 After fields settled down and fired three scoreless innings, the Bishop Moore offense picked up the pace again in the fifth. The Hornets broke open the game with a pair of runs, highlighted by Kyle Mock and Connor Scheitzach singles. Parker Thompson added a sacrifice fly in the inning, upping the score to 4-0.
When Bishop Moore tacked on an additional four runs in the sixth and seventh, the only drama that was left was whether Bates would finish off the no-hitter. Unfortunately for the Hornets ace, Fields would get a semblance of revenge when he lined a one-out single to right.
"It was a low fastball in the zone and he went down and got it," Bates said. "At first you say to yourself, 'Dang it', but there is a bigger picture and I am just happy that we were able to get the win."
That bigger picture is a state final match-up today with Bolles out of Jacksonville.
"We preach seven innings of hard-nosed Bishop Moore Baseball," Mehlich said. "Play the way you are supposed to play, respect the game, respect every at-bat and respect every opponent that we play. It's just going to take us playing solid baseball. Bolles is very talented and we're familiar with them, and they are very well-coached. As long as we play out style of baseball the sky is the limit for us. Hopefully we'll be taking home a ring."