Timber Creek Wins 9A State Championship Over University
Photo Gallery
Whether or not your team wins a state championship at the end of the season, every dedicated coach has demands from his players in how to execute that plan. Guys are asked to do a lot, but most of all they are asked to trust their coach and believe in that process. Over the course of things that trust is tested and adversity is faced, but when the story can end by realizing a dream come true there is no better sense of satisfaction and accomplishment.
For the Timber Creek Wolves that dream came true on Saturday night, as the Wolves earned a 5-0 shutout over the University Titans to win the 9A state championship. As the team celebrated afterwards under the lights of Hammond Stadium in Fort Myers as state champs for the very first time, the hard road taken to get there only made the accomplishment that more rewarding.
"I'm just really happy for the seniors and the team," Timber Creek manager Tim Beaman said. "My practices are not easy and the system is not easy, and they grind really hard. It's well worth it when something like this happens."
Across the diamond was a University Titans team that had lived their own same story to reach the pinnacle moment. This is not the ending they wanted, but that loss cannot ruin the whole story either.
"As the only two teams in the state of Florida still playing, and only one team can end the season in the end. It wasn't us, but by no means does that make the season a failure," University manager Frank Martello said. "It's a disappointment, but we won a regional championship in one of the toughest regions, we set a school record with 25 wins and guys gave their best effort, energy and enthusiasm. It is special, and you are considered one of the better teams in the state, you get to play in a beautiful Major League Spring Training facility, you get to travel a charter bus with your team, and you're treated real well. Those are the type of things when you have a program that you want your players to experience, and I know they will relish it."
Preston Schumacher made the start for the Wolves (25-7) and nearly went the distance for a career day, before pitch-count limitations forced him to trust reliever Jason Riley to record the final out. The right-hander allowed five hits and three walks, with a season-high 12 strikeouts.
"He was great," Beaman said of Schumacher. "I knew about the second inning on that he was going to give us a quality start and he would get deep in the game. I was still concerned his pitch count would go up, because he has a tendency to do that. He had 12 strikeouts but he still kept pitching to contact and hitting his spots, and we kept adding runs. He was great at times this year, but a little inconsistent, but what a place to come out and deliver his best performance all year."
Schumacher last had an outing like that in late March, when he allowed one earned run and had nine strikeouts in a no-decision. But after serving as the club's closer and finishing off two playoff games, the junior got the call in the big game and he flourished under the spotlight.
"He was tremendous," Martello said. "He had our guys off-balance and guessing, which we don't like to do. He was around the plate, so tip your hat to him."
Schumacher established his curveball right away, which helped him get into a groove almost immediately. He had a perfect 1-2-3 frame with two strikeouts in the top of the first, and he never looked back.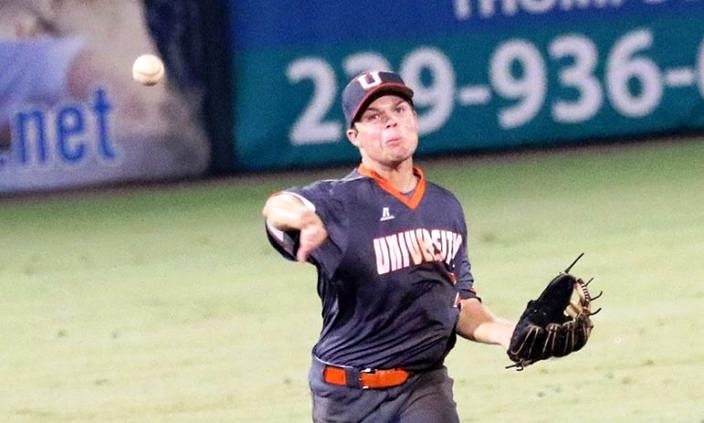 "I just felt good today," Schumacher said. "I was warming up in my bullpen and I was throwing it pretty hard and pretty consistent, and I kept that going throughout the rest of the game."
Timber Creek opened the scoring for all the run support it needed in the bottom of the second. Parker Smith lined a single into shallow right field, Zak Sousa reached with a bunt single and Nick Ruhl advanced both runners into scoring position with a sacrifice bunt. An error allowed Smith to score and Cameron Meehan followed with an RBI single to center to give his team a 2-0 advantage.
The Wolves were back at it for another pair of runs in the third. Marcos Roque reached on an error and Smith delivered again with a booming shot high and deep over the center fielder. Roque came all the way around to score as Smith slid into third base with an RBI triple, before then also scoring after a throwing error.
The fifth inning brought another run onto Timber Creek's lead. Marcos Roque smacked a stand-up double into the left field corner and Paxson Chambers followed with an RBI single up the middle and just out of reach of the diving shortstop to plate Roque for a 5-0 lead.
"All the hard work paid off," Smith said. "All year long we worked so hard, we had a four-hour practice one time and it all just came through. I just want to thank all my teammates, Bret Neilan, Schu, it was all how we planned it and it was perfect. Knowing that this was going to come through and trusting the process, it's the best thing ever."