Foundation Academy Falls Short In First Trip To State Championships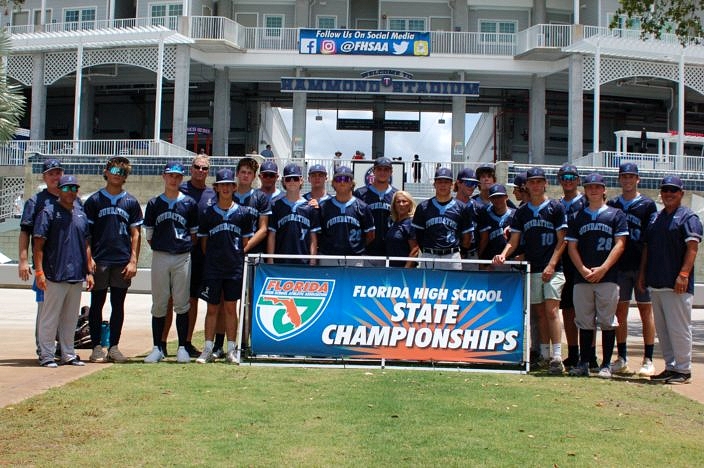 When it comes to the state tournament, experience is crucial.
Miami Christian proved that on Monday morning in a 4-2 victory over the Foundation Academy Lions in the FHSAA 2A state semifinal in Fort Myers. After winning it all in 2018 and 2019, the Victors return to the state championship game against North Florida Christian on Tuesday. It's manager Chris Cuadra's third trip in the last five years, and he says that this is what's expected of the program he's built over the last decade.
"This is what we built, a culture of winning," Cuadra said. "We expect to be here every year. From day one, from the fall, I tell them that our main goal is to go to states and nothing less. We come up short, it's a failure."
Cuadra opted to start junior Chris Diaz, a Miami commit, and the future Hurricane went the distance striking out seven along the way. The complete game is even more impressive than one might think given that Diaz had been dealing with an injury over the last few weeks.
"Coming back from an oblique strain, I felt pretty good today," Diaz said. "I felt like I was in the zone. I felt like everything was working the way I wanted them to. My pitches were there. In those situations that got a little tight, I tried to make the best pitches as possible and give my defense a chance to make some plays and get out of the jam."
Foundation Academy started their No. 2, Ty Cannon, and then turned to innings leader Zach Grzeszczak in the fourth. Both were scheduled to pitch as manager Jay Welsh made it clear that the goal was to give the team its best chance to win regardless of what it could mean for a championship game.
"I wasn't saving anybody," Welsh said. "I knew that everything we had today, I would've thrown anyone tomorrow to get to that championship game. Ty has been our strike thorwer all year. I told him early he was going to start so he needs to be in that mindset to come out and have success. It worked out well, we got him out of there with one run, Zach came in and did his job and then we just hit a wall."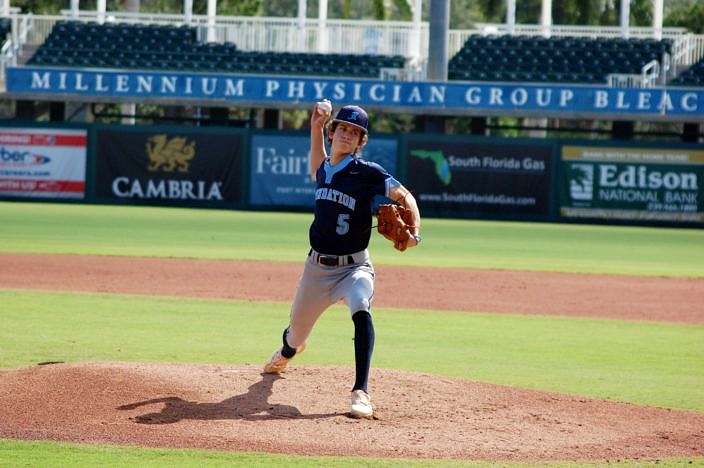 Cannon came out of the gates strong, earning five of his first six outs on strikeouts. Trouble came in the third after he hit the leadoff batter, Roylan Quevedo, and moved him over to second on a wild pitch. After tagging up and reaching third, Quevedo made the decision to take off for home plate on a pitch that Diaz showed bunt to and then pulled back on. The gutsy play paid off and Quevedo slid in under the tag to break the 0-0 deadlock. Cuadra said he wanted to squeeze in that situation, but he was happy to trust his 2022 MVP.
"That was probably the craziest play I've did in my whole life," Quevedo said. "I saw that we were struggling in the first two innings. He was throwing curveballs and we weren't hitting.
"We were being too anxious, so I was like somehow we have to score this first run and get the lead so our pitcher can be calm. First thing I did, I didn't even tell my coach, I'm like I'm taking it, and I just took it. I slid home and saw that I was safe, and that was it."
A 1-0 lead is anything but safe in the playoffs, though, and it was only a matter of time until the Lions got on the board. Junior Braden Holcomb, a Vanderbilt commit, delivered those runs in the form of a two-run home run to left field. He wasn't sure that the ball was leaving the yard out of the gate, but he got just enouh of the ball to clear the wall. Diaz said the plan was to come right at Foundation's best hitter. It worked for the most part, but that pitch got away from him.
"That pitch that slipped was supposed to be middle-away and I left it a bit more middle-inside," Diaz said. That's what good players do. They make you pay for mistakes. You just work though it and keep moving forward."
It's not the first time Holcomb has come up big for the Lions. In fact, that was his seventh homer of the year and third-straight game with a big fly.  Welsh attributed Foundation Academy's run to the first regional championship and state final four in school history to Holcomb's hot bat.
"When (Holcomb) started to get on his roll, we got on our roll. It's as simple as that," Welsh said. "It's really hard fot one kid to carry a team, but he came pretty close. We have Johnny behind the plate and Zach pitching as well, but we didn't really hit our stride until he started hitting the ball our of the ballpark and taking the mound. He's a really special kid. I've had the pleasure of coaching four guys that wound up playing in the majors. He's by far the most talented I've ever had."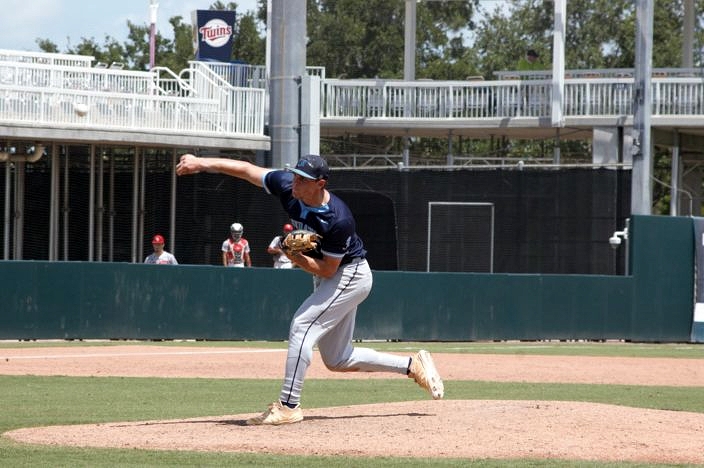 Unfortunately, Holcomb's efforts weren't enough. The Lions ran into trouble immediately after they took the lead. Grzezczak walked the first two batters in the inning and was removed in favor of Holcomb. A sacrifice bunt put both runners in scoring position and a pair of errors gave Miami Christian the lead back. Davis came back out to pitch the seventh for the Victors and finished the game with a 1-2-3 inning.
"I got put in during a little rough spot, first and second with nobody out," Holcomb said. "I knew they were going to bunt since they were at the bottom of the order. So, I just told myself to fill up the zone and not to walk anyone. If they were going to beat me, they were going to earn it."
Miami Christian earned it, but it's far from a failure of a season Foundation Academy.
"This program has had 11 coaches in 14 years," Welsh said. "They've never really established a foothold. They're really in a great spot, they could ba sleeping giant. They talked me into coming on board and I saw something in the program and basically only gave them structure. Once they had that, it kind of snowballed from there. So, I told them that I fully expect to be back here next year."
Holcomb was even more emphatic in that prediction.
"We'll be back," he said. "No doubt."
For the Victors, there's one more team in front of them to immortality. Even though the club has seen success recently, it hasn't always been that way and Miami Christain alumnus Bill Leathers knows that best. A member of the program's first championship team in 1975, Leathers traveled with the team to help guide them to now a fourth title.
"Well, the wisdom is play your best, don't be nervous," Leathers said. "I mean, you're always nervous but do the best you can and enjoy it, because it was 47 years ago for me and it feels like just last week. And these guys will remember, if they win tomorrow afternoon, they will remember that the rest of their lives. I just say enjoy the game."