Hagerty Falls To Douglas 4-1 in the 7A State Semis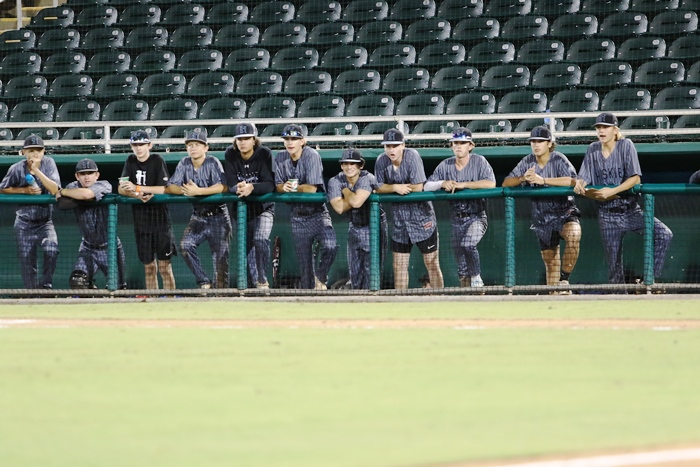 If you spoke to any player or coach from Douglas over the past few weeks, to a man they claimed the goal was to focus on one game at a time, and that they were not thinking about all the accolades that come with a second straight state and national title.
After Friday night's 4-1 win over Hagerty in the state 7A semifinal, one game is all that is left between the Eagles and possible history.
"We just have to stay focused for one more game," said Douglas Manager Todd Fitz-Gerald. "All that other stuff will take care of itself if we do what we came here to do tomorrow night."
What the Eagles have done so far, is come up with a different offensive hero each game of the playoffs. Chris Arroyo, Christian Rodriguez, Santiago Ordonez, and Friday's starting pitcher Jake Clemente have all played the role.
In the semifinal, it was Roman Anthony who strode to the plate in the bottom of the fifth with the bases loaded, and promptly singled through the right side, breaking a 1-1 tie and giving the Eagles a 3-1 lead.
"My only goal in that situation is to keep the line moving," said Anthony. "I was glad I could come through in that spot for the team, but really we have faith that any of us in that situation could come through. Tonight it was me, but it could have been the next guy, or the guy after that also."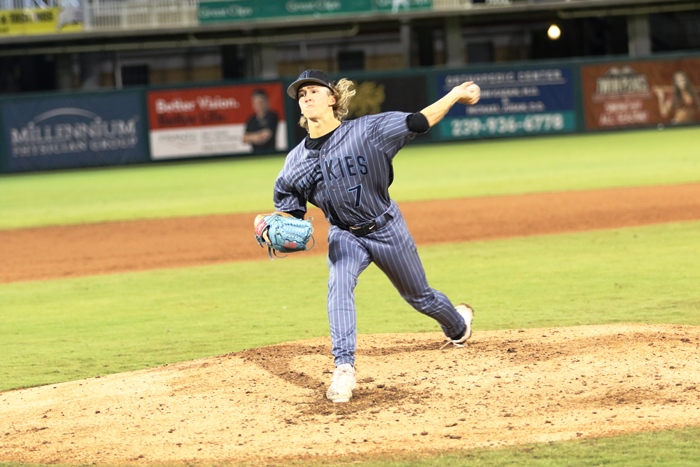 That has been a common theme response from these Eagles players, as they have confidence from one through nine in the lineup.
"We all trust each other so much, we are a band of brothers," said starting pitcher Clemente. "We have been through a lot together the past couple years, and we just know no matter who is up in the big spot, they are going to come through. It's a great feeling to have."
The other great feeling to have in a state semifinal game is the feeling that your starting pitcher is in complete control, and that was the case for Douglas with Clemente in the semifinal game.
The senior dominated, working quickly in between pitches, and relying on an overpowering fastball.
"I felt good right from the start," said Clemente. "My job was to come in and pound the strike zone, and work fast. I knew eventually we would score a few runs, so I just had to lock it down until we did."
The Huskies also had a pitcher on the mound that was holding his own. Sophomore Talen Bell was mixing fastballs with a plethora of off-speed pitches, including sliders and change-ups. He kept Douglas guessing for most of the night.
"He did a good job of keeping our hitters off balance, using the slider early, and then going to the change-up later in the game," said Fitz-Gerald. "He is going to be a good one, and he threw the ball well tonight."
With the semifinal game behind them, the math becomes pretty simple for the defending national champions. After winning the biggest national spring break tournament in the country earlier this year, and compiling a 29-2 record, a win Saturday night would likely see them become back-to-back national champions.
"We can't think about that right now," said Anthony, one of the teams nine seniors. "I am sure the emotions will come out after the game tomorrow, hopefully with us winning. But what we know for sure now is tomorrow will be our last high school game."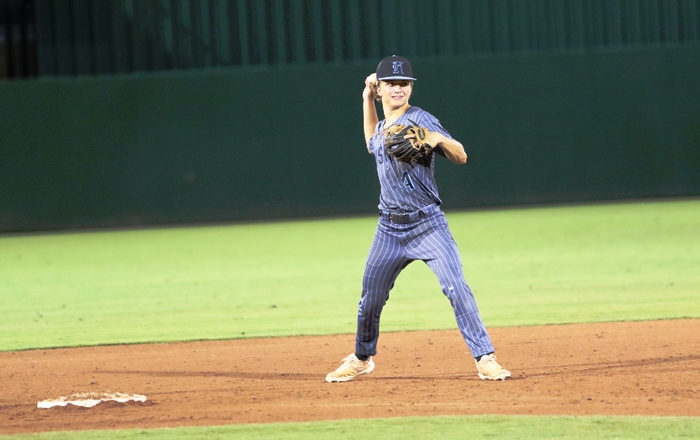 The Eagles will face a familiar foe in a winner-take-all rematch of last years 7A regional final. Palm Beach Gardens, who had Douglas down to their last out, and then watched heartbroken as the Eagles stunned them late in 2021, worked their way all the way back and defeated Plant (Score) Friday night in the other 7A semifinal.
The championship game will be Saturday, at 7PM.
Hagerty finishes their season at 17-9, and the loss ends a dream playoff run that saw them play even with Douglas through the first four and a half innings of the semifinal.